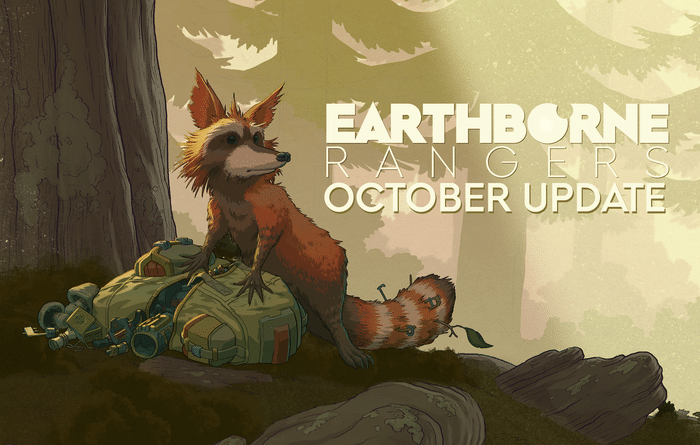 Hi everyone!
I hope this update finds you well, wherever you may be.
Fall has officially arrived here in Minnesota, so that means I'm now wearing sweaters and wool-lined slippers on a daily whereas mere weeks before I was wearing t-shirts and sandals. It also means that I've been spending plenty of time indoors, warming myself by the light of my laptop, watching Earthborne Rangers steadily come to life.
Pledge Manager Update
Shortly after I posted last month's update, we received confirmation from Backerkit that we will be able to charge shipping separately from your product order. That means that we can safely launch the pledge manager before we settle on shipping costs (which is exciting since the current cost of shipping is quite high).
Now, the only thing standing in the way of the pledge manager opening is my desire to improve the product imagery so that it can make the best possible impression.
Evan is currently working on a new graphical treatment for the Legacy of the Ancestors box that we're extremely excited about. Plus, we're working on near-to-final visuals for the fold-out Valley map and the Art & Lore Book (among some other fun surprises).
If you're champing at the bit to explore the pledge manager, rest assured that it will be worth the wait. We'll get it up and running as soon as everything is living up to our (possibly unreasonable) expectations, and it will remain open for several months thereafter.
Sustainability Update
I recently received an updated quote for the core set, and I was happy to see that material prices have held steady since the previous quote. There are now giant asterisks all over it, however, warning us that "Due to the volatility of the market, stock [paper] and chip [puchboard] pricing may need to be adjusted." As you might imagine, that wasn't the most comforting thing to read given the fact that the entirety of the core set is made of paper. The warning is due to the supply chain issues that are currently plaguing the manufacturing of all things, but since we're not on the verge of printing, the situation may improve by the time we're ready to go to press.
On the bright side, we're very close to having a fully FSC-compliant product, which is very exciting. Plus, the entire game as quoted should be both fully recyclable and compostable, which is exactly what I was hoping for.
With that, I'll hand the update off to Andrew Fischer for this month's designer diary. Enjoy!
See you next month!
Much love,
Andrew
—————————————
Designer Diary (October) – Planning our Route
At the end of September I went on a multi-day backpacking trip to catch the fall colors on the Superior Hiking Trail, a 300+ mile footpath that follows the shore of Lake Superior.
Even though the Superior Hiking Trail is fairly linear, I still had to carefully plan my route before I left and ask myself some important questions. How much distance/elevation change do I think I can cover each day? Where are the good campsites and water sources? How much food will I need? Where are the fire bans, detours, or bridges out? What spurs or overlooks should I account for?
Having this plan doesn't mean I was "on-rails" for the entire trip. In fact, I made a lot of changes as I went: I shortened the first day after pulling my calf a bit, I forded a river a mile early based on a tip from other hikers, and I climbed to a couple of bonus overlooks when I found myself with extra time later in the trip. I still had the freedom to improvise and do what I wanted, but my route planning gave me the context and information to better understand the decisions I had to make. I could better see the opportunities and pitfalls of my decisions because of how they altered and evolved the original plan.
Designing a big game like Earthborne Rangers is a lot like planning one of these hikes. As a team, we need a comprehensive plan and vision for what the entire game looks like, but we also need the flexibility to be able to iterate on the design. We need a plan that is specific enough to give context to our decision making, but broad enough to leave room for creativity and improvisation. So, for this month's update, I wanted to share a couple pieces of what that planning looks like for our team. (And remember, all of this is subject to change as we continue to iterate on the game.)
Mapping the Valley
As an "open-world" game, everything in Earthborne Rangers is given context through its location in the Valley. Because of this, I wanted to make sure we were thinking about each location and character through the lens of where you would be encountering them.
To this end, we've made an Indesign document of the Valley map that we can use for reference and collaboration. Each location has its name, summary, and a list of landmark cards on separate layers that can be shown or hidden as needed. Also, each path is a vector object that can be edited with a click, allowing us to quickly move things around or change terrain types based on playtesting.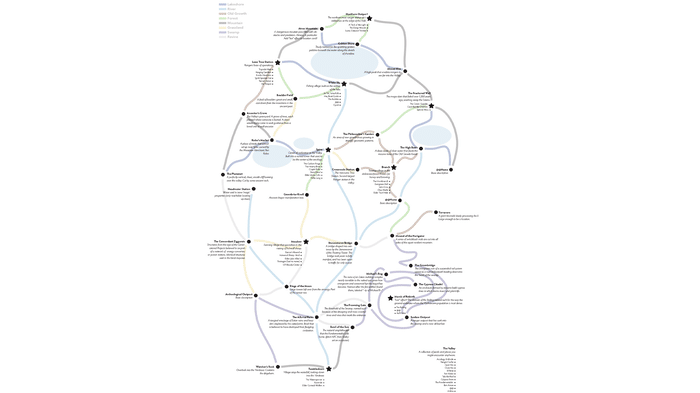 This map was sketched out based on Andrew and Sam's world-building work and writing about the locations of the Valley. Then, based on the needs of the game's design and story flow, some locations and characters were tweaked or moved around, which Sam then folded back into our world-building documents. Similarly, as Brooks continues the design of path cards, certain mechanics inform how we want the path layout to be structured. You can see how this kind of documentation can become critical with even just a few people simultaneously collaborating on an element of the game.
Storylines
The other planning document I thought would be cool to share with you all is our flowchart for the core set's main story line. A lot of our "side-activities" and stories can be encountered in any order, and thus can be developed in a relative vacuum. However, the main storyline of our campaign has several dependencies to ensure that any branching or interactive narrative sections respond correctly to your actions.
To keep all of this in order, I've created a flowchart mapping out the mission structure of our campaign. Each major story beat is represented by a visualization of the number of cards those missions' mechanics will use, a summary of the story beats we want to hit, and a quick note on which NPCs will play a role in those missions. This doesn't capture all of the complexity of how missions work, however – each "node" on this flowchart may have multiple missions within it, and there are a lot of small outcomes that are tracked using the journal entries – but it does give a good high-level view of the narrative structure.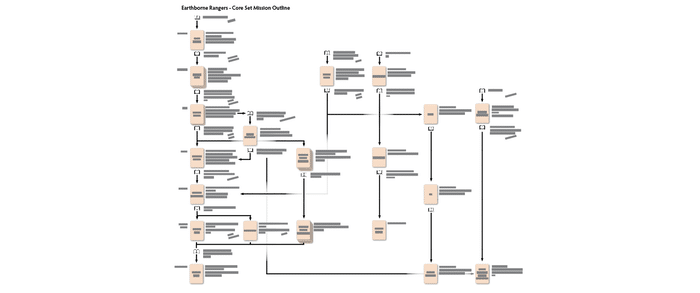 One of the other interesting elements of this chart is how it helps us pace the game. Each horizontal "row" in this image represents a section of a players' time with the game, and each has an area of the map associated with it. Using this, we can match the pacing of the story to the physical space of the Valley, helping us get an optimal flow of content for the average playthrough of the campaign. This ensures that you have a good number of missions at any given time and that you flow naturally through the Valley, hopefully avoiding ever feeling dead-ended or like you're backtracking. Obviously, some enterprising players will try to sequence-break this "optimal" flow, but that's the fun of open-world games!
———–
I hope this glimpse into some of our planning documentation gets you as excited to finally venture into the Valley as I am to share it with you! In a few short weeks we will be starting our first round of external playtesting on some of this content. In next month's update I hope to be able to share some of our designs and talk about where our planning held true and where we needed to improvise.
Until next time!
–Andrew (Fischer)