Hi everyone!
I hope you're all doing well. Welcome to the first monthly update for Earthborne Rangers!
Thank you all again for making the campaign a success and for your continued support. It's been deeply gratifying to hear from those of you who've reached out to say how inspired you are by either the mission, the game, the artwork, or all of the above, and to see publishers like Stonemaier Games posting publicly about lessening the environmental impact of their products. A significant part of the mission was to raise awareness in the industry, and so far, that seems to be the case, which is awesome.
Since the conclusion of the campaign, I've begun the process of requoting the production costs with manufacturers, connecting with fulfillment services, and speaking with accountants. I'm also doing my best to finally take some time off and play some games (which I have!).
I was very inspired by all of you, our conversations during the campaign, and your reactions to the TTS demo and gameplay videos, and as a result, I've also spent some time in the past few weeks writing lore and sketching new concepts, like this one!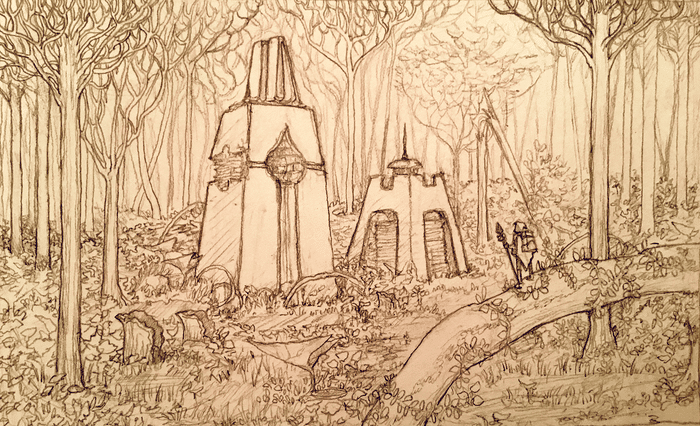 Joe has been really bringing the heat with his concepts since the campaign began, and he hasn't let up. He's been turning in a lot of really great stuff, like this!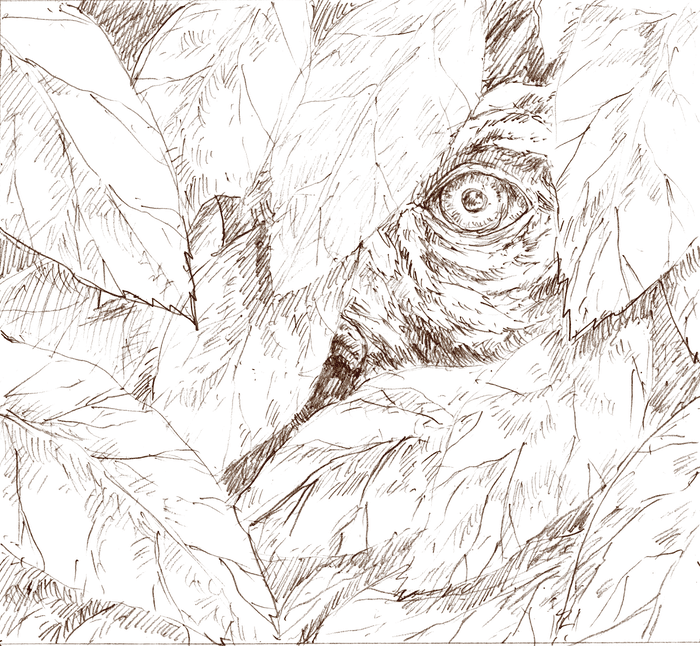 Evan has begun scouting for artists and has begun to build a list of very talented illustrators that compliment his style, so I'm looking forward to having a lot of new finished artwork to share with you all in the months ahead.
He and Fischer also rebuilt all of our card templates and data sources so that we can quickly and easily output cards for testing purposes. It involved a lot of coding, debugging, and teamwork, but the end result will save us countless hours of manual labor as we start external play testing again next month. For a game with as many cards as Earthborne Rangers, that's a big deal!
Pledge Manager Update
I know that many of you are looking forward to the pledge manager opening. Here's an update on where it currently stands.
I had hoped to have the pledge manager up and running shortly after the conclusion of the campaign, but as I began the process of setting it up with a DIY service, I soon realized that it was a more monumental task than I had anticipated. As such, I've decided to move forward with Backerkit as the pledge manager, as they'll be able to offer support to any of you who may have questions after the pledge manager opens, and they'll also be able to support us as we finish setting everything up.
The only hurdle that needs to be cleared before we launch the pledge manager is having a solution in place for shipping charges. As I mentioned on the campaign page, my hope is to wait to charge for shipping until nearer to fulfillment–which can be a tricky proposition for a pledge manager. It sounds like Backerkit has a promising solution, however, so we should be able to do just that (which will allow us to open the pledge manager without having to settle on shipping costs first). If that's the case, then you should look forward to the pledge manager opening sometime in the next few weeks. If not, then we will wait until we feel confident with the shipping costs before we open the pledge manager. I will keep you posted in either case!
—————–
Design Update by Andrew Fischer
Thank you all for helping make Earthborne Rangers' kickstarter such a success! It was really exciting to finally share the game with the world and see you all get hyped about the project with us. For me, it was especially exhilarating (and a bit terrifying) to first share the draft rules and TTS demo of our "vertical slice" with you. Most of my career I worked with studios that kept games tight to their chests until release, so sharing unfinished, in-development game content with the public was a bit nerve-wracking. But in the end, I'm so glad we did.
Not only was sharing the vertical slice valuable for all of you to be able to play the game before deciding whether or not to back the project, but it ended up being a valuable resource for our design team in the sheer amount of feedback you all gave us.
After the Kickstarter wrapped, one of the first things I set out to do was to collect and analyze all of the feedback from emails, forums, and the comments section. From this feedback we've made a ton of small fixes and tweaks to the existing rules and content. The feedback has also informed a couple directions we are trying out in testing for certain elements of the game system. I can't get into everything in detail here, but here are a select few high-level takeaways from your feedback:
The majority of playthroughs were performed solo. While the majority of players said they planned to play two-player.
Challenge deck distribution and customization was the most-discussed topic. There was wide support for a lack of an "auto-fail" card in the challenge deck, and there was a lot of interest in being able to customize the deck, especially to make challenge icon distribution more asymmetrical.
The 16 different aspect + approach icon pairings led to some confusion for players in remembering/seeing which test used which pairing.
Sometimes the optimal move is to rest with energy still left in your pool. This felt frustrating and counterintuitive to players who wanted to feel like they were using all their resources as optimally as possible.
There was a lot of curiosity about difficulty scaling in the final game and concern about whether or not the weather cards would prove sufficient to provide a big enough challenge.
These (among many others) are some of the pieces of feedback we're addressing as we've been diving back into content design and development over the last few weeks. As we continue to work, we'll keep you updated on the solutions and changes we settle on in these updates.
We are hoping to start play testing of the core set content later next month (October). Thank you to everyone who has reached out with interest in testing. We probably won't be able to use everyone, but we will be reaching out to a select group in the coming weeks to recruit our initial pool of testers.
—————–
If you have any questions or concerns (or you just want to say hi!) please send me a DM here on Kickstarter or send us an email at info@earthbornegames.com. If not, we'll see you again next month! Until then!
Much love,
Andrew